If you are located in the Midwestern US, then you are probably not far from either a US Bank branch or ATM location. To see if there is one near you it is really easy to find one from this page. Having this type of tool means that you would not have to run all over town trying to find one.
In order to be able to find the nearest branch and ATM location near you, all you have to see the map above and you will be able to locate all of the US Banks that are nearby.
One of the keys to banking is to be able to find the right bank that is located close enough so that you do not have to drive a long distance in order to do all of your banking. With US Bank operating 3100 branches with the majority of them being located mostly in the Midwest part of the United States.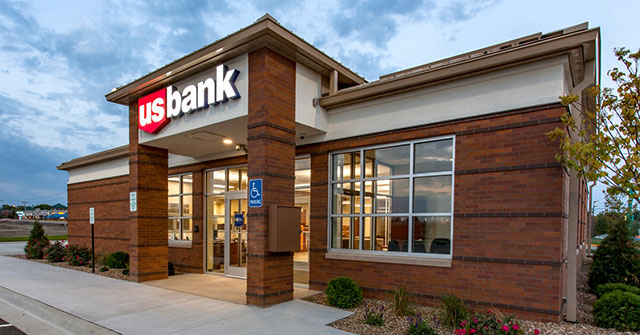 US Bank Hours of Operation*
A bank has to decide when is the best time for them to be open in order to provide their customers the best opportunity to be able to do all of their banking. This includes both the individual and business account customers. This is probably why US Bank decided on 8:30 am at the time that they would be open. There is even some special consideration for Saturday hours depending on where in the United States. They also offer 4600 ATMs that make it possible to do some types of banking when the branch is not actually open.
*These listings are estimates only and may only be used as a guide. Please contact your local bank to find the exact hours. For updated hours click here:
US Bank Branch and ATM locations
US Bank is a national, US-based bank with more than 3100 bank locations and 4600 ATMs located throughout the United States in 28 in states. With so many branch locations and ATMs you should be able to know whether or not you will find a location near you.
US Bank Branch and ATM locations
Arkansas (40)
Arizona (78)
California (643)
Colorado (155)
Florida (2)
Georgia (1)
Iowa (108)
Idaho (96)
Illinois (237)
Indiana (22)
Kansas (37)
Kentucky (126)
Minnesota (143)
Missouri (231)
Montana (25)
North Dakota (24)
Nebraska (60)
New Mexico (32)
Nevada (99)
Ohio (281)
Oregon (194)
South Dakota (18)
Tennessee (103)
Texas (1)
Utah (71)
Washington (183)
Wisconsin (134)
Wyoming (15)
All states (3159)
US Bank Routing Numbers
The US Bank Routing number that you will find on each of your checks that you will be issued with your new checking account. This 9-digit number is extremely important in that it is necessary for you to have in order to do wire transfers and direct deposits. When you first establish your checking account with US Bank Bank you will be given the number.
If for some reason you cannot find the number that you were given, you can get the number from one of the checks you were issued. Below is an example showing where on the check for you to look. You can also find it here listed on this page, the number is based on your location.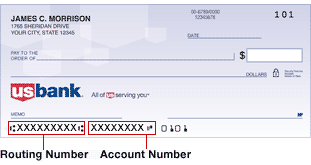 List of US Bank Routing Numbers
| State | Routing Number |
| --- | --- |
| Arizona | 122105155 |
| Arkansas | 82000549 |
| California - Northern | 121122676 |
| California - Southern | 122235821 |
| Colorado - Aspen* | 102101645 |
| Colorado - all other areas | 102000021 |
| Idaho | 123103729 |
| Illinois - Northern | 71904779 |
| Illinois - Southern | 81202759 |
| Indiana | 74900783 |
| Iowa - Council Bluffs | 104000029 |
| Iowa - all other areas | 73000545 |
| Kansas | 101000187 |
| Kentucky - Northern | 42100175 |
| Kentucky - Western | 83900363 |
| Minnesota - East Grand Forks* | 91215927 |
| Minnesota - Moorhead | 91300023 |
| Minnesota - all other areas | 91000022 |
| Missouri | 81000210 |
| Missouri - Western | 101200453 |
| Montana | 92900383 |
| Nebraska (+ Council Bluffs, IA) | 104000029 |
| Nevada | 121201694 |
| New Mexico | 107002312 |
| North Dakota (+ Moorhead, MN) | 91300023 |
| Ohio - Cleveland | 41202582 |
| Ohio - all other areas | 42000013 |
| Oregon | 123000220 |
| South Dakota | 91408501 |
| Tennessee | 64000059 |
| Utah | 124302150 |
| Washington | 125000105 |
| Wisconsin | 75000022 |
| Wyoming | 307070115 |
| All other states | 91000022 |