Clinton National Bank Online Banking is a quick and convenient method of securely managing your account. You can choose from a wide range of online financial services to help you keep track of your banking account.
Using Clinton National Bank Online Banking, you can check your account balance and e-statements, view all of your account transaction histories in one place, easily transfer funds between different accounts and subscribe to email notifications regarding your bank account. You can also easily pay all of your bills in one place, avoiding the hassle of visiting different sites to pay your utility bills and taxes. The website also features a list of guidelines to help you through the website while also helping to keep your personal information safe from any misuse.
Logging into Clinton National Bank Online Banking
Access the following webpage to login to Online Banking: https://cibng.ibanking-services.com/eAM/Credential/Index?orgId=11C_073900441&FIFID=073900441&brand=11C_073900441&appId=CeB&FIORG=11C
You will be asked to enter your User ID on the main page.
Once you have entered your User ID, click on 'Continue'
This will lead you to the next step, which will require you to enter a one-time security code, to help keep your account safe.
Click on 'Continue with security code' to proceed with the next step.
You will then be asked to verify your personal number or email, where you will be sent your security code.
Enter your security code on the login page to successfully login into your online banking account.
If you have not enrolled your account yet, you would want to register your online account first.
How to Enroll in Clinton National Online Banking
On the Clinton National Website, click on the 'Enroll' button.
This will redirect you to the 'Online Enrollment Form'.
You will be asked to select your account type, based on your personal needs
After you have selected your account type, you will be asked to read the Service Agreement and Disclosure section before you proceed.
Once you have read these terms, check the box and click on continue.
You will then be redirected to completing your Online Enrollment process, after which you may log in to your account.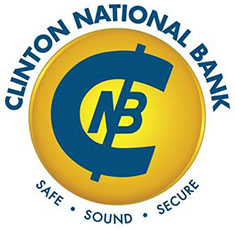 Clinton National Online Banking - Mobile App
By downloading the Clinton National Mobile App on your smartphone or tablet, you can gain access to free and secure bank account access from your very own personal device. You can perform all bank related tasks using your smartphone or personal gadget, as well as use features such as Xpress Deposit, which makes money deposit as easy as taking a picture of your deposit slip and transferring it directly to your bank account.
You can also use your mobile phone as your digital wallet using the Clinton National Mobile App, making quick and secure payments wherever you go.
Clinton National is an independently owned community-based bank, which was founded in the year 1865 in Clinton, Iowa. Clinton National Bank is emerging as one of the most trusted financial institutions across the State of Iowa, where Clinton National firmly believes in providing the best financial services to all community members.
Clinton National Bank has its main office in Clinton Iowa, with 11 other locations across other cities in Iowa, such as Delmar, Miles, Sabula, and Preston. Clinton National has total assets of about 11.7 million dollars, recorded in the year 2019.